Bogdan Dima Triumphs in Tabook's Most Insightful Video Challenge at Sports Festival
Passion, Dedication, and Community Support Lead to Smartphone Win
Cluj-Napoca, Romania, 27/07/2023.
By Alexandra Bogdan
The launch weekend at Sports Festival saw a thrilling competition, T@book's Most Insightful Video Challenge. It offered participants a chance to win a brand new smartphone. They created a video about a book, and the experience of reading, convincing users to give a like to their video insight. Among the many participants, Bogdan Dima emerged as the winner. He showcased his insight on the book "Curajul de a nu fi pe placul celorlalți" and also the impact of dedication and community support.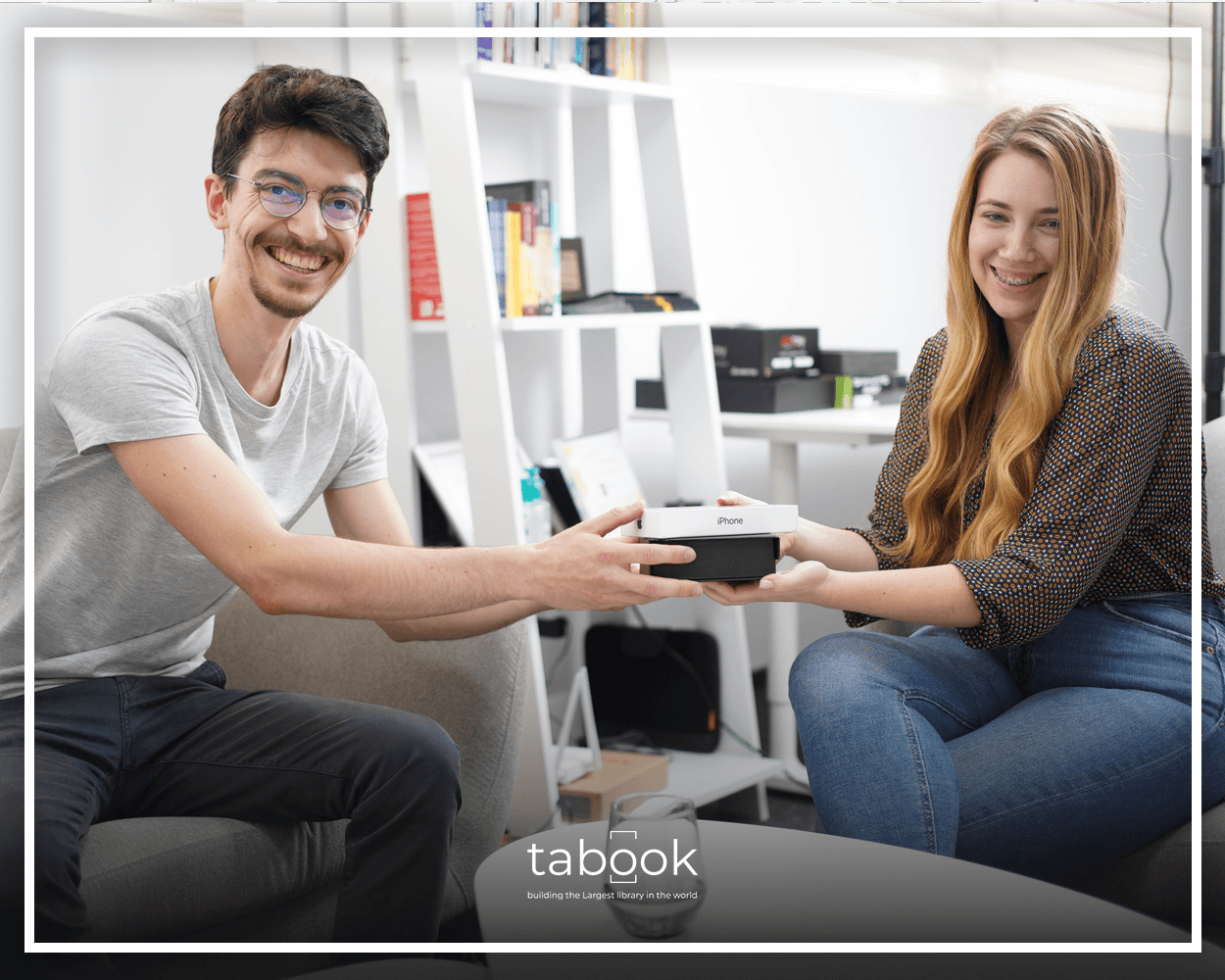 Motivation Behind Participation
In an exclusive interview with Tabook, Bogdan Dima revealed the unexpected inspiration that drove him to take part in the Most Insightful Video Challenge. It all started when his girlfriend expressed a keen desire to return to the T@book stand at the Sports Festival for a second time. They initially came and talked to our staff, gaining information about us, our purpose and the challenge. Intrigued, Bogdan accompanied her back and gave a longer look to the video insights playing on the stand's screen. This experience sparked his sense of curiosity and competition, and he knew he had to be a part of it. Both him and his girlfriend made a video insight on the spot, at our designated area inside our inspirational stand.
Using Every Available Resource
To secure victory in the challenging competition, Bogdan Dima left no stone unturned. His dedication and resourcefulness became clear as he enlisted the support of his friends, who, in turn, invited more people to download the T@book app and vote for him. Harnessing the power of his network, he even sought the help of his parents, who reached out to their circle of friends to garner more votes.
Community Support: A Game-Changer
The competition spanned from Thursday to Monday, and throughout the weekend, Bogdan engaged with people on the streets, urging them to vote for him. To his surprise, he encountered other avid readers who voted for him, highlighting the spirit of camaraderie and support that prevailed among book enthusiasts at the Sports Festival.
In addition to personal interactions, Bogdan leveraged social media platforms to promote his video. He not only encouraged likes for his post but also rewarded those who shared his passion for reading faster. This gesture garnered more votes for him.
A Motivated Winner
When asked about his unwavering motivation to win, Bogdan Dima explained that he became engrossed in the challenge. It was no longer about the prize, it was about the journey of motivating people to like his video insight and promote our platform. The sense of accomplishment that came with inspiring others fueled his determination to emerge victorious.
The Power of a Supportive Community
One of the most heartwarming aspects of Bogdan's win was the support he received from the people around him. Voters supported him without any selfish interest in the prize. This exemplifies the spirit of encouragement that T@book fostered at Sports Festival.
Bogdan Dima's Appreciation for T@book
Throughout the interview, it became evident that Bogdan embraced the Tabook app. He didn't only become a user to participate in the challenge. He joins our description of T@book as a "bookstagram". We see it as a platform where readers could share their insights, thoughts, and experiences about books. In turn, it makes reading a more interactive and immersive experience. He recommended the app to fellow book enthusiasts.
Conclusion
Bogdan Dima's victory in T@book's Most Insightful Video Challenge stands for dedication and community support. His journey from curiosity to becoming the winner serves as an inspiration to all aspiring content creators and book lovers. T@book's commitment to fostering a supportive community of readers has found an advocate in Bogdan. He found a platform to express his love for books and insightful thoughts.
As more readers discover the joys of T@book, it is sure to grow into a vibrant community that celebrates the joy of reading and sharing knowledge. Join us, too!
Help us grow and improve! If you support our project and encourage literacy, please leave us a review, it helps us a lot.